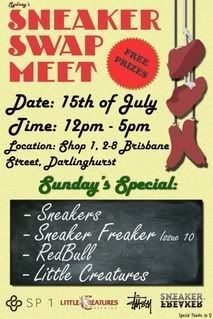 It was an eventful weekend!
I joined forces with another Sneaker Freaker forum member to set up one of the 10 tables available at Sydney's inaugural sneaker swap meet at the Stussy store.
I've met 2 old acquantainces from high school on the forum. One of them from close to 2 decades back when I was in Sri Cempaka KL and another from my high school days in Sydney 13 years ago.
When I first joined the forum about 4 years ago, all we had was an online username. We were just a bunch of guys hanging out on the forum chatting away about sneakers and shit until bits and pieces of information inevitably got posted which revealed our identity and along the way, the mutual friends that we've had.
Talk about a small world...even in cyber space.
It was also great to meet a lot of the newer members and also to put faces to usernames for some of the regulars of the forum.
Throughout the day, the appreciation for sneakers instantly broke the ice and there was much to talk about, even to strangers.
The turn-out was awesome considering it was a chilly Sunday. Most came around to look at the amazing collection of sneakers we had on display but a few came by just to chill and chat.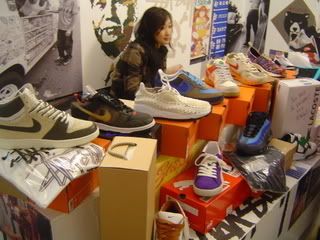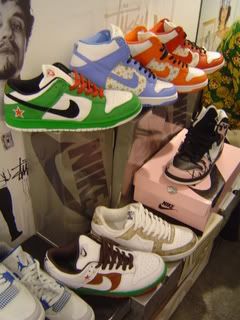 We had a couple of custom tee shirt stands which had some original and amazing designs and even a setup which sold vinyl toys and shoe laces to complement the sneakers.
I sold a pair of my favourite Jordans. The Air Jordan 2 "Carmelo Anthony" colourway.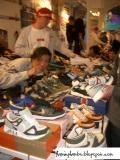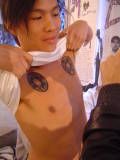 Ritchie always knows how to strike a pose and make a statement. He's a talented designer whose store has made a few t-shirts in collaboration with some of the most recognisable streetwear brands on the planet. The prototype jeans that he was working on last year were really something. Too bad it didn't make it to production. Here he is showing off his new tatts that he got from his recent trip to Bali. He designed it himself too.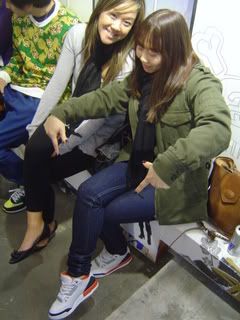 There were loads of rare and hot sneakers pounding the floor. We were checking out people's feet most of the time. Even the ladies got into the action.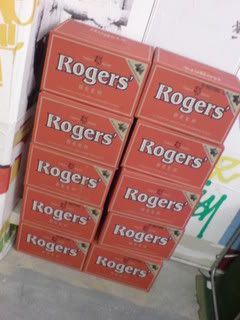 Free booze all day plus the Red Bull girls came through a few times with more free refreshments. What more can one ask for?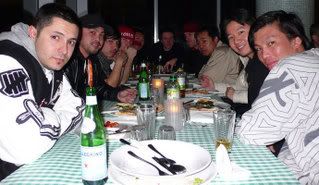 We capped off the night with a nice Italian dinner with some of the crew from the day.
All in all a fantastic day to remember.
[pictures courtesy of Iori@Sneaker Freaker]