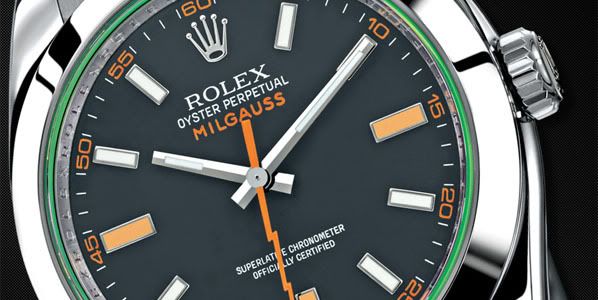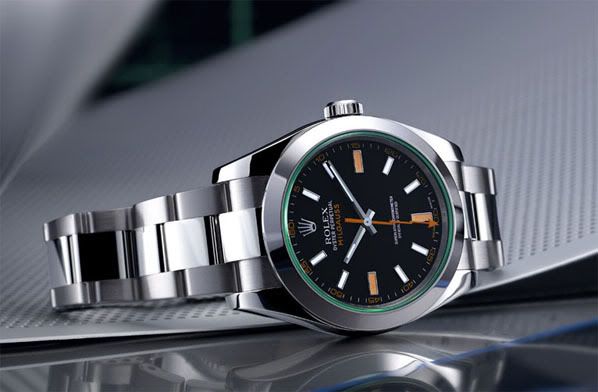 The blurb...
At present day a lot of people work in environments that are subject to intense magnetic fields. Aerospace industry, research labs, telecommunications and medical imaging are just a few examples of fields that are found under the considerable magnetic influence. Scientists, technicians, engineers and other specialists all need a reliable timepiece that would be well protected from magnetic influences and provide accurate timekeeping. Rolex developed its Oyster Perpetual Milgauss with these people in mind.

The Oyster Perpetual Milgauss bears a French name that implies that the timepiece with an inner 'Faraday cage' case will resist a magnetic flux density of one thousand gauss. The year 2007 marked a new step in evolution of the model. The first model of the Rolex Oyster Perpetual Milgauss appeared back in the 1950s, having brought technological progress to focus. The movement of the watch reliably protected by the magnetic shied has been developed to provide exceptional performance even when found under the influence of strong magnetic fields.

In 2007 the Rolex vintage Milgauss celebrated its 50th anniversary. As one could have expected, prices for the extremely rare vintage models available through auction sales are amazingly high. Taking these facts into account, no wonder Rolex has decided to update its legendary Oyster model offering an advantage of anti-magnetic protection. Rolex fans will surely be pleased by the updated model's perfect execution and reasonable price- that is £3,210.

The distinctively orange sweep-seconds hand is designed to remind a lightning-bolt. The black dial features white and orange applied hour markers. The Arabic minute numerals are also in orange. The dial is covered by a green-tinted sapphire crystal that adds a slight trace of stylishness to the dial. The watch goes on a rigorous stainless steel Oyster bracelet.

Ooooh yeaaa! I've fallen in love with the Milgauss. It's not as flashy as the Explorers but it does have that vintage look with the seconds hand providing a flamboyant flair. It's humble enough to blend in with a tee shirt and jeans and stylish enough to compliment a suit. More importantly, the watch resists a magnetic flux density of one thousand gauss!!!
Ok, ok. I haven't the slightest idea what that last sentence means but it has scientific terms in it so it has to be cool.
Anyway, compared with the Explorers, the Milgauss doesn't scream, "Look at me, I'm a wannabe diver or an underwater cave explorer" because let's face it, how many people you know buy Explorers to go deep sea diving?
Now, the question is, where am I going to get the dough for it? It's the middle of winter, which means man-whoring myself on a street corner is going to be tough considering the multiple layers of clothes doesn't exactly show off the assets like He-Man or Tarzan. Furthermore, we all know what happens to the 'package' when it's cold.
Anyone need a pimp?