Via espn.com...



HOUSTON -- Coach Phil Jackson said he deserved the reprimand he got from the NBA on Wednesday for making a sexual reference in a comment following the Los Angeles Lakers' loss in San Antonio.

The Spurs made 13 3-pointers in their 107-92 victory on Tuesday night, and Jackson was asked if too much penetration was leading to open outside shooters.

"We call this a 'Brokeback Mountain' game, because there's so much penetration and kickouts," Jackson said. "It was one of those games."

The 2005 film, which won three Oscars, depicts two cowboys who conceal their homosexual affair.

"But in retrospect, it wasn't really funny," Jackson said before the Lakers played Houston on Wednesday night. "When you take it out of context, it wasn't funny. It was a poor attempt at humor and I deserved to be reprimanded by the NBA."

Still, Jackson couldn't resist making another joke as he apologized.

"If I've offended any horses, Texans, cowboys or gays, I apologize," Jackson said.
Jackson thanked beat writers and other journalists who covered Tuesday's game for dismissing the comment as an innocent joke. He said several of them laughed when he said it.

The NBA did not.

NBA spokesman Brian McIntyre said: "The remarks are in poor taste, and the Lakers have assured us such remarks will not occur in the future."

Jackson admitted he should've known better -- that coaches can't get away with the jokes that Jay Leno and David Letterman do for a living on their late-night talk shows.

"It's societal right now," he said. "Some people can do it. Some people can't. That's something that's appropriate for certain categories."

Gay & Lesbian Alliance Against Defamation (GLAAD) president Neil G. Giuliano issued a statement saying: "Phil Jackson's been coaching long enough that he should be able to talk about the Lakers' performance without resorting to cheap gay jokes."

Copyright 2007 by The Associated Press

Hahaha! Cheap gay jokes? I thought it was GOLD! Who says the zen master has no sense of humour? I thought Phil Jackson's comment was downright appropriate and hilarious. C'mon, thirteen 3s in a game? Were all 5 Lakers hugging Duncan in the post or what?
Okok, he got fined, which is fair enough cos' we don't want the NBA getting in trouble with the Hollywood heavyweights for NBA teams scooping up the writers on strike to write their post-game interviews.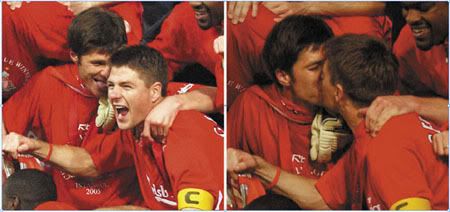 See you in the showers.*Muaks*
Maybe the C league should have fined these guys too?
Some more funny sports quotes:
"My sister's expecting a baby,and I don't know if I'm going to be an uncle or an aunt."
Chuck Nevitt, North Carolina State basketball player, explaining to Coach Jim Valvano why he appeared nervous at practice
"I told him, 'Son, what is it with you? Is it ignorance or apathy?' He said, 'Coach, I don't know and I don't care.' "
Frank Layden, Utah Jazz president, on a former player
"Son, looks to me like you're spending too much time on one subject."
Shelby Metcalf, basketball coach at Texas A&M, recounting what he told a player who received four F's and one D
"He dribbles a lot and the opposition doesn't like it. In fact you can see it all over their faces."
Basketball analyst
"Nobody in football should be called a genius. A genius is a guy like Norman Einstein."
Joe Theismann in 2002. It turns out that Joe Theismann went to high school with a Norman Einstein, who was the class valedictorian.
"Julian Dicks is everywhere. It's like they've got eleven Dicks on the field."
Metro Radio, College Football
"You guys line up alphabetically by height."
Bill Peterson, a Florida State football coach
"I owe a lot to my parents, especially my mother and father."
Greg Norman, Pro Golfer
"One of the reasons Arnie Palmer is playing so well is that, before each final round, his wife takes out his balls and kisses them. Oh my God, what have I just said."
US Open TV Commentator
"The lead car is absolutely, truly unique, except for the one behind it which is exactly identical to the one in front of the similar one in back."
Grand Prix Race Announcer
"This is really a lovely horse and I speak from personal experience since I once mounted her mother."
Ted Walsh - Horse Racing Commentator
"This is Gregoriava from Bulgaria. I saw her snatch this morning during her warm up and it was amazing."
Weightlifting commentator at the Olympic Snatch and Jerk Event
"We're going to turn this team around 360 degrees."
Jason Kidd, upon his drafting to the Dallas Mavericks